Placing a subwoofer in your room can be a difficult task, considering all the potential locations for the subwoofer within the room and the various settings that may be a feature on your subwoofer of choice.
When deciding to add a subwoofer to your monitoring system, there are two main goals:
To extend the low frequency response of your system
To combat room modes and fix acoustical issues
Whatever your goal is, it is important to properly place your subwoofer in your room and adjust various settings to get the best results. This guide is meant to help simplify that process.
The "Subwoofer Crawl"
This is the easiest method to place your subwoofer that doesn't involve acoustical testing. It may seem silly doing it, but it absolutely works. We have used this method in many of our award-winning studios over the years with great success.
Here is the process:
Place the subwoofer at your mix position. If possible, place it in your chair, but if that doesn't work, just place it on the floor directly below where your ears are typically placed.
Pick a track that you are intimately familiar with that has a bass line that repeats and play it through your system (sub and main speakers).
Get on your hands and knees and crawl around the room, moving your ears through areas where the subwoofer could potentially be placed. Keep your head near the floor while you move and listen closely to the music while doing so.
You will find some places in the room where the bass is "boomy" or "muddy" and other places where it sounds too "thin" or "hollow". You want to eliminate these locations from contention.
When you find locations where the bass sounds accurate and balanced, use painter's tape or something similar to mark these locations.
Next, you want to swap the subwoofer and your ears. The results you heard when you were crawling around will translate to the mix position.
Acoustical treatment will go a long way towards improving the low frequency performance of your room, but this method to determine the ideal location for your subwoofer is something that is free to do and can yield excellent results.
Using More Than One Subwoofer
Sometimes it can be beneficial to use two or four subwoofers in your system to combat room mode issues. Depending on the size/shape of your room, the ideal placement of your subwoofers will vary and may require some acoustical testing to fully dial in the best performance. If you have a rectangular room, here are some scenarios that you can try when placing your multiple subwoofers: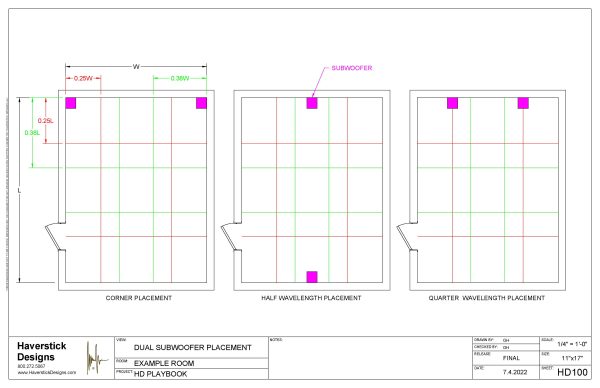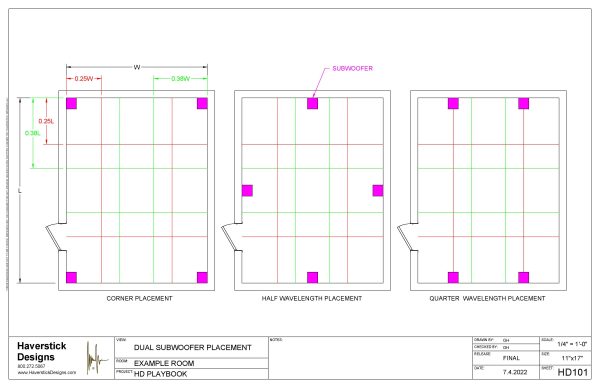 Setting Your Crossover
If you are conducting acoustical measurements in your room in order to identify peaks and dips in your frequency response, you can adjust your crossover frequencies to flatten your frequency response. This will require you to be able to adjust the crossover on both your stereo speakers and your subwoofer independently.
Selecting a crossover frequency will depend largely on what speakers you own. Where a monitor starts to roll off in the low frequency range will dictate where crossovers should be set. Typically, somewhere around 80 Hertz (Hz) is a good starting point. Adjusting this crossover point can help you to flatten your frequency response. For instance, let's say that you have peak in your response around 80 Hz. One way to improve this issue would be to set your crossover frequency of your subwoofer at 70 Hz and cross your main speakers over at 90 Hz as to not excite the problem frequency as much. Your results will vary depending on the slope of the crossover and the width of the peak that you are trying to adjust.
Polarity or Phase Adjustments
Subwoofers will typically have a "phase" or "polarity" switch. This will determine whether the driver is going to push or pull the initial wave. Since you only have two choices for polarity, it is best to play a track that has decent low frequency content and listen at the mix position to determine which setting results in the most consistent bass.
Subwoofer Volume Setting
Adjusting the level of your subwoofer is important to make sure that the low frequency range sits well with the mid and high frequencies. Running an RTA (Real-Time Analyzer) with pink noise will allow you to fine tune the level that your subwoofers produce.
Setting Delays
If there is a time difference between when the information from your left and right speakers arrive at your ears and when the waves produced from your subwoofer arrives, this can cause imaging issues and smearing of transients.
After your subwoofer is placed properly, measure the distance from your ears to each of your monitors and to your subwoofer. For example, if the distance to your subwoofer is one (1) foot longer than the distance to your monitors, then your monitors should be delayed by 0.88 milliseconds (ms) since the speed of sound is 1.13 feet per millisecond. This equation is outlined below:

Summary
Experimentation is key to this process. Try the various configurations and settings shown above and determine which option provides you with the most accurate frequency response. Subjective listening will go a long way, but acoustical testing can be instrumental in finalizing your subwoofer placement and settings. Taking the time to properly set up your system once, will pay dividends for as long as you are using your room. Don't be afraid to make mistakes, because each step of this process will be a learning experience that will help you in the long run.