Flutter Echo
Flutter echo is one of the most common acoustical issues in any given space. You have likely heard a space that suffers from flutter echo before. It is simply a rapid series of echoes reflecting between two parallel surfaces. It sounds similar to a ping-pong ball bouncing back and forth. This type of echo can be incredibly distracting in a space that requires critical listening. Below is an example of a church that had a problem with flutter echo. From the Front of House, there were several reflections that bounced between the front and rear wall, causing flutter echo. The densely grouped blue lines are indications of reflection build up.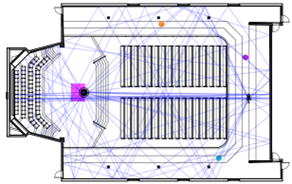 A common way to treat flutter echo, especially from the side walls, is to splay, or angle, the side walls from each other. To effectively eliminate the flutter echo, walls should be angled at least six degrees each for a total of twelve degrees from parallel. Rooms designed in such a way are called, "fan shaped" rooms. Be it a recording studio, a church, a theater, or any other acoustical environment, parallel, untreated walls can lead to problems with flutter echo.
Beyond Parallel Walls
A common misconception pertaining to flutter echo is that it only occurs between parallel walls. While flutter echo will always occur between parallel reflective walls, it will also occur in geometric configurations that create repetitive reflection patterns. See below for ray tracing diagrams showing different geometric configurations that will have issues with flutter echo. Note that the positioning of the sound source & listener changes with each location. These are just a few common examples indicating situations where repetitive reflections can occur – note that there are many more types of rooms that can have flutter echo issues beyond these examples!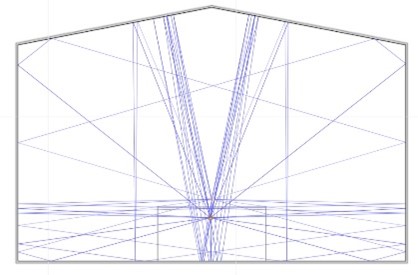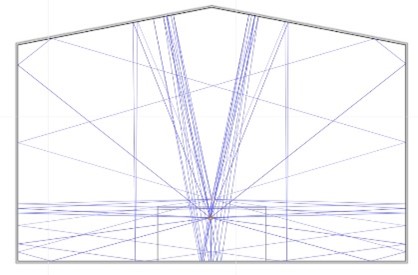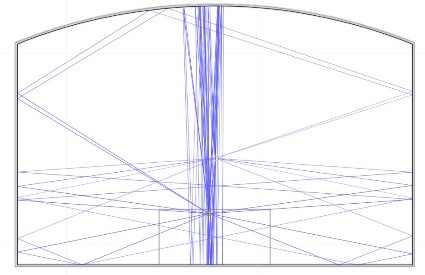 Slapback
Another type of problematic reflection in a large room is "slapback". Slapback echoes occur when reflections bouncing off the rear wall of a large room return to the listener and are perceived as a distinct echo, creating a distraction for people speaking or performing from the stage or listeners in the audience. Human beings' brains sum together reflected energy arriving within approximately 70 milliseconds of the direct sound, meaning that we perceive reflections arriving within this 70 ms window as coming from the sound source, not as a distinct reflection.
However, when sound arrives after that 70 ms window, our brains perceive that sound as a separate sound source, making these reflections distracting, rather than reinforcing the direct sound. Since the speed of sound is a constant (1.13 feet per ms), if the rear wall is over 30 feet away from the stage, you are likely to experience slapback if you have an untreated, reflective rear wall.