An important aspect of dispersing sound throughout a room is the use of curvature on walls/ceilings. Generally speaking, the use of concave surfaces will be detrimental to the acoustics of the space. When sound hits a concave surface, it is focused towards the center of curvature of the wall, resulting in intense focusing of reflections towards a particular location in the room. This manifests itself as an illusion of there being very many sound sources, rather than one – making voices sound robotic and music sound tinny and unnatural. Below is an example of a room which featured a concave stage wall, resulting in an uncomfortable listening experience towards the center of the room.
Convex shapes, however, react with sound in a different way. Sound is reflected off a convex surface in many directions, allowing the sound to blend more evenly. This is the reason many geometric diffusion treatments will feature convex shaping. Below you can see diagrams representing what happens when sound hits a convex surface.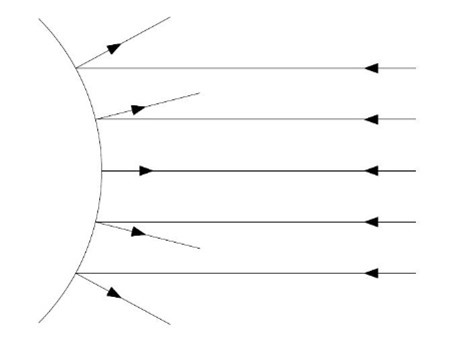 When designing a space, it is important to understand how the geometry of the room is going to impact the way sound behaves inside the room.