In highly accurate mixing rooms, reflections are adequately treated so as not to interfere with the direct sound. In an ideal world, we would hear the sound from our monitors without coloration from the room we are listening in.
First order reflections are defined as areas in the room where the direct sound from the speakers bounces off of a surface and returns directly to the listener. This could occur from a wall, ceiling, floor or even from a console, desk or rack gear. Second order reflections would be where sound bounces off of two surfaces before arriving back at your ears. See below for two diagrams illustrating first and second order reflections in a room. On these diagrams, the blue lines indicate reflection paths.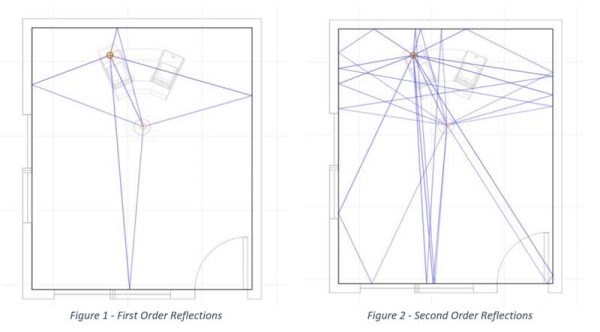 Treating the first order reflections can make a night and day difference in the sound quality of your room. When reflected energy combines with the direct sound, it can cause a phenomenon called comb filtering.
On a frequency response graph, comb filtering shows up looking like the teeth of a comb with multiple sharp spikes and severe dips, particularly at higher frequencies. Comb filtering is evident in the graph below:

Direct sound travels from the speakers to the listener and then reflected sound arrives slightly delayed in time. This causes certain frequencies to be attenuated, which is referred to as "phase cancellation." Comb filtering is a time domain issue that manifests itself as a frequency domain problem.
So, our goal is to minimize comb filtering by effectively treating a room's first reflection points. However, we do not want to blanket the entire room with acoustical treatment because this would create an unnatural and uncomfortable space to work in. Humans have evolved to subconsciously take note of reflections in a room to understand how big it is and the type of environment we are in. Because of this, when a space is completely devoid of reflections (i.e., if the room was entirely blanketed with acoustical treatment), it creates an uncomfortable environment.
So, how do we locate the first reflection points? By using the Mirror Trick.
The Mirror Trick is a simple and effective way of pinpointing first reflection points in your room so that you know where acoustical treatment should be placed without using CAD software to draw a dimensionally accurate version of your room. For this exercise, you will need a friend to assist you.
Sit at your mix position.
Have your friend take a decently sized mirror and hold it parallel to one of the walls with his/her back against the wall.
As your friend shuffles around the room (always keeping the mirror parallel to the wall), you want to rotate in your chair and look at the mirror.
Anytime you see the image of one of your speakers in the mirror, have your friend mark that position on the wall behind them with a pencil or painter's tape. These are the first reflection points!
Add acoustical treatment at the first reflection points. Typically, it is best to use absorption panels at the first reflection points. If you are sitting at least 6 feet away from the rear wall, you could treat the rear wall first reflection points with diffusion.
By treating these locations, you will make a night and day difference in the sound quality of your room. From here, you can start to experiment with bass trapping and additional acoustical treatment as needed.