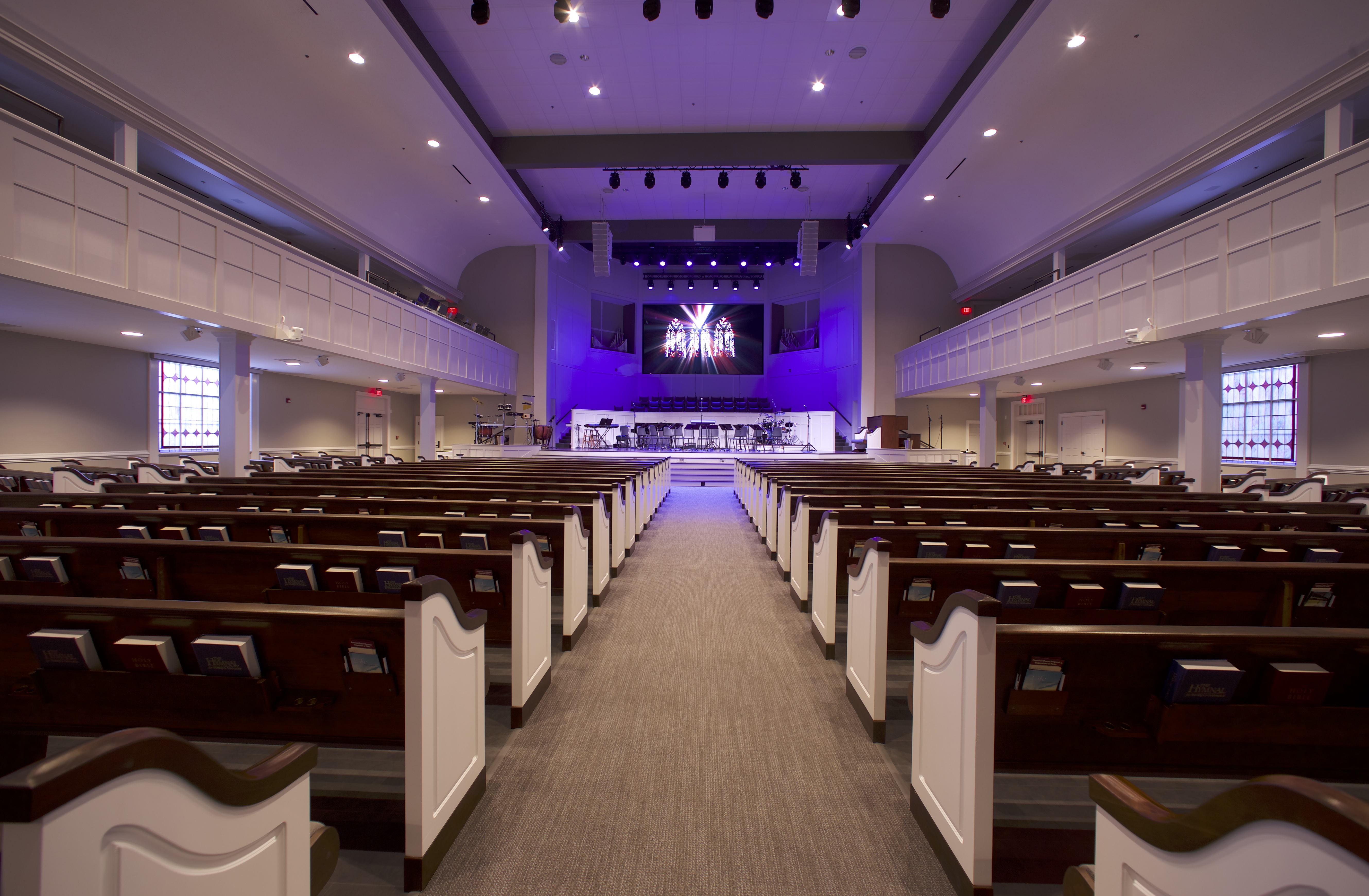 Acoustical Simulators: Tools on the Haverstick Designs Website
July 2, 2020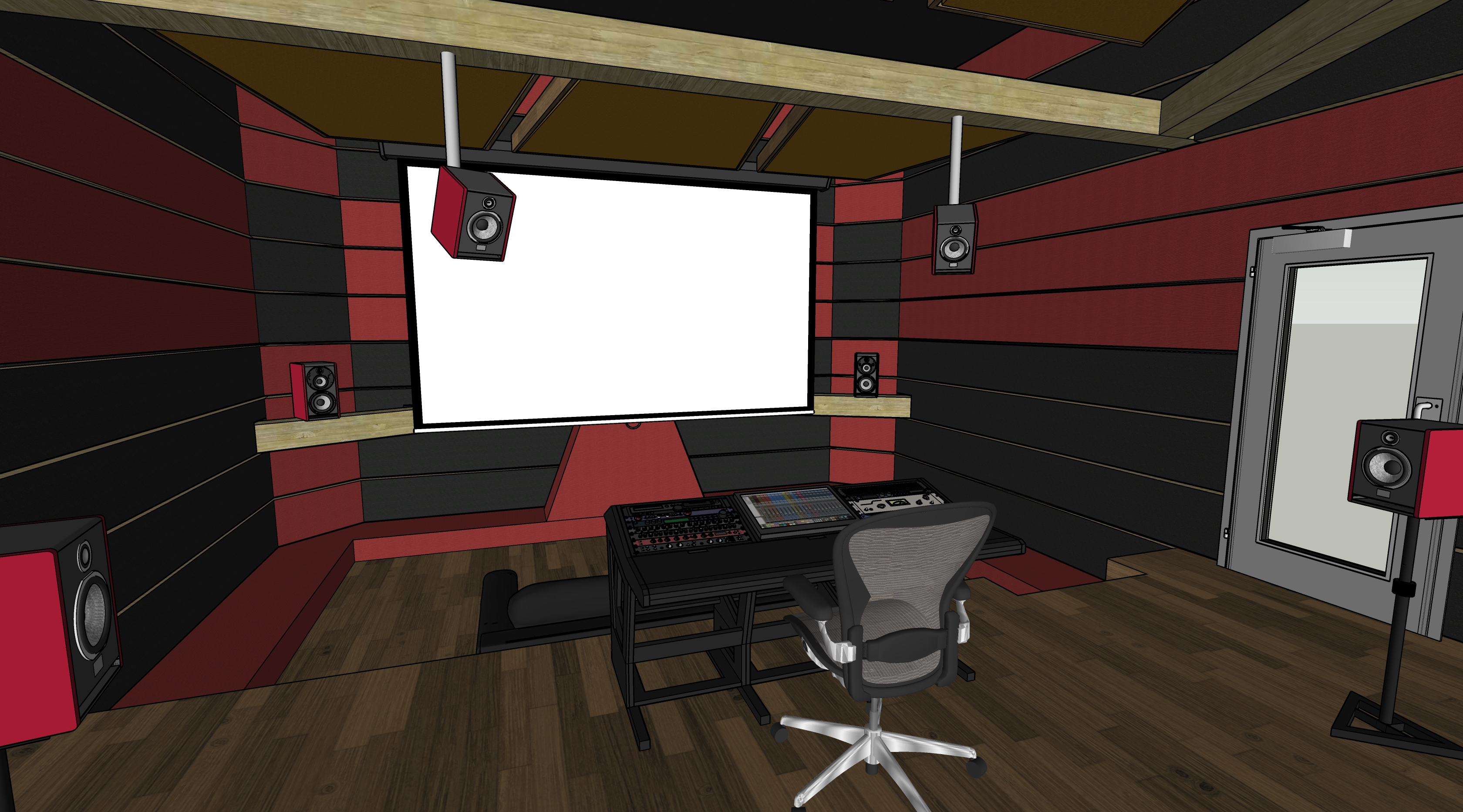 Acoustical Design Considerations for Dolby Atmos Studios
September 2, 2021
At Haverstick Designs, fulfilling our client's vision is our top priority. Working across the United States and the world, our clients' goals for their spaces will inevitably be incredibly diverse and unique. In addition to each client's personal acoustical goals, there are other aspects of the design (lighting, interior design, climate control, furniture, seating, etc.) that are part of the overall vision and need to be considered while formulating the acoustical design.

Envisioning these many layers of a project and seeing how these moving parts will interact with each other can often be difficult to communicate to a client through architectural drawings or 2D layouts alone. For this reason, Haverstick Designs offers high quality Architectural 3D Rendering Services to our clients. These 3D renderings help showcase photorealistic results, allowing clients to see what the room will look like with our treatment recommendations in place. This can be useful for various types of projects and at various stages throughout the design process.

Top 5 Uses for 3D Renderings in an Acoustical Project
1. Honing in on the "vibe" the client wants the room to have
If you search through our "Portfolio" page on our website, you will see that no two spaces look alike. This is because we believe that each client's room should be a reflection of their artistic expression. Each client will have different goals for the room's aesthetic and the general "feel" the room should have. Providing realistic 3D renderings helps a client understand what the vibe of the room will be like before the room is built or renovations have been implemented, so that design choices can be modified accordingly.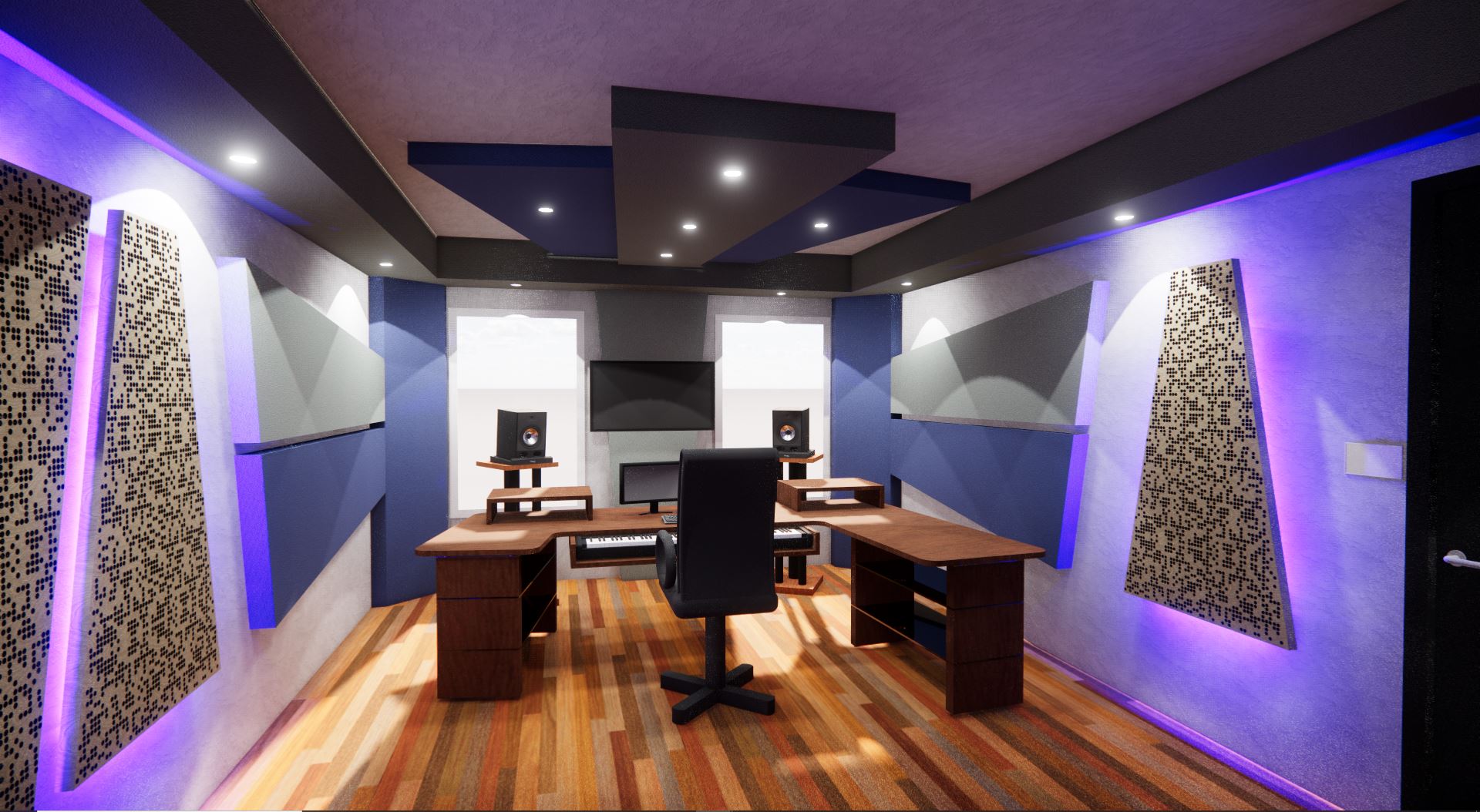 2. Helps the client understand different options for treating a space
In architectural acoustics, there are various treatment options that can accomplish the same acoustical goal. Different products will have different aesthetic looks, and that needs to be factored in when making treatment decisions. Things like fabric choices, panel size/shape/, general layout, wood species/stain selection can make it difficult for a to visualize how all of these aspects work together in the room. While photos of products from various manufacturers are available online, it is always helpful to see what the treatment will look like in the client's specific room with other architectural aspects specific to the space.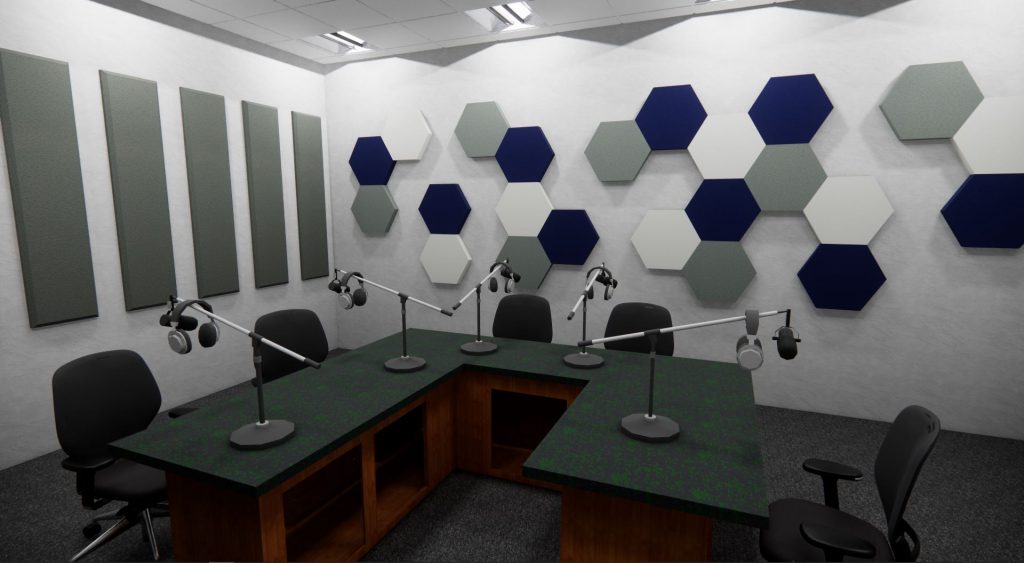 3. Planning on workflow and usage of the space
Any engineer or artist working in a musically focused room will have their own specific way they prefer to work. Some people will work almost entirely using MIDI instruments and software plug-ins, never having to leave the chair in front of their screen. Others will use exclusively live instrumentation, moving around to various locations throughout the room, or even to separate live rooms or isolation booths for different instruments. Each engineer/musician will have their own set of gear that they would like to set up in their own particular way. The design of a room should take all these factors into account, and this process is made much more efficient with 3D Renderings. With photorealistic images of the space, the client is able to envision working in the space, which can impact decisions on gear placement, any modifications to furniture placement and other important aspects of the acoustical design of the room.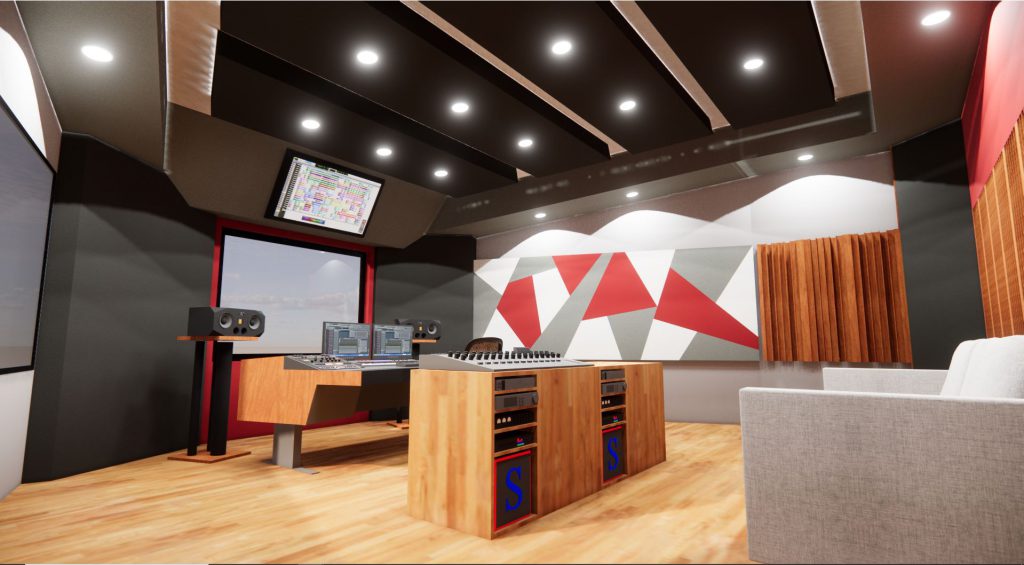 4. Communicating project direction to a team
Very rarely will an acoustical consultant's point of contact on a project be the only person working on the project on the client's end. Other engineers, studio owners, project managers, employees, and more will be on the team but may not directly speak with us as we work on the design. Particularly for House of Worship clients, projects will often have a committee that will have to sign off on any decisions made. Communicating acoustical decisions in of itself to a client can be a complicated process. For one point of contact to go back to the rest of the team and communicate acoustical decisions is a tall order. Photorealistic renderings are useful to this end, and can be used to help the rest of your team visualize how these acoustical design points will manifest themselves into real life. By having a tangible point of reference, the entire team will be on the same page and understand the acoustical design more thoroughly.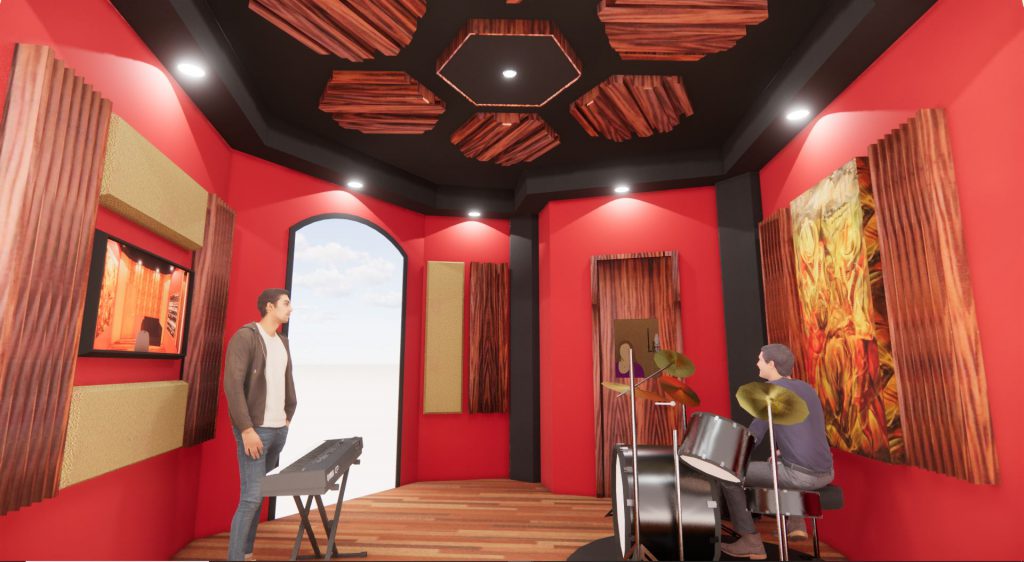 5. Useful to plan other areas of design in cohesion with acoustics
As acoustical consultants, our roles in a project will almost always be one of many moving parts in the grand scheme of the project. Particularly in new construction projects, there will be many other consultants or parties to work with: lighting engineers, interior designers, HVAC contractors, architects, structural engineers, and many more will have their own work to do in the space. Each of these areas of room design will inherently be affected by the acoustical design, and vice versa. Ensuring that each of these different areas of design are in sync with each other is paramount to ensure that the design comes out as ideally as possible for the client. 3D renderings are again a great way to ensure that each person is on the same page as to that the final result will look like, and how each of their roles will affect that final result.
A relatively new service offered by Haverstick Designs, 3D photorealistic renderings have been an excellent way of optimizing the design process. They have proven to be extremely useful in facilitating collaboration and communication both with the client themselves, as well as other consultants/professionals working on the project. And above all else: they just look cool. They're fun to create and look at, and they add a different type of excitement to a project. At Haverstick Designs, we want the design process to be enjoyable exciting for our clients. These renderings help all of us keep the final goal in mind: to create an inspiring space that serves as a creative expression for our client.
Contact us today to discuss how our rendering services could work for your project
Written By: Oscar Otero