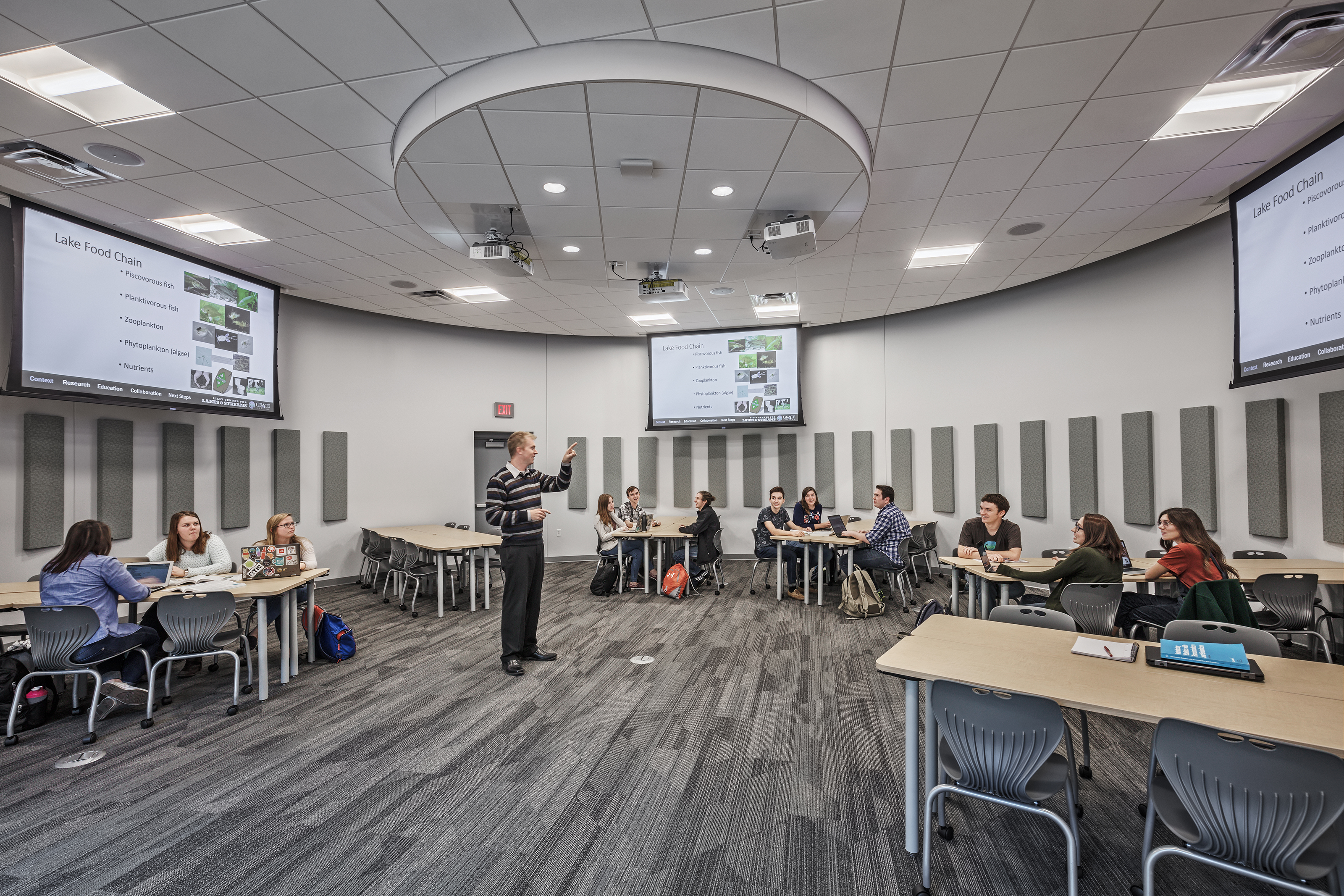 Classroom Acoustics: Common Issues, Causes, and Solutions
September 18, 2019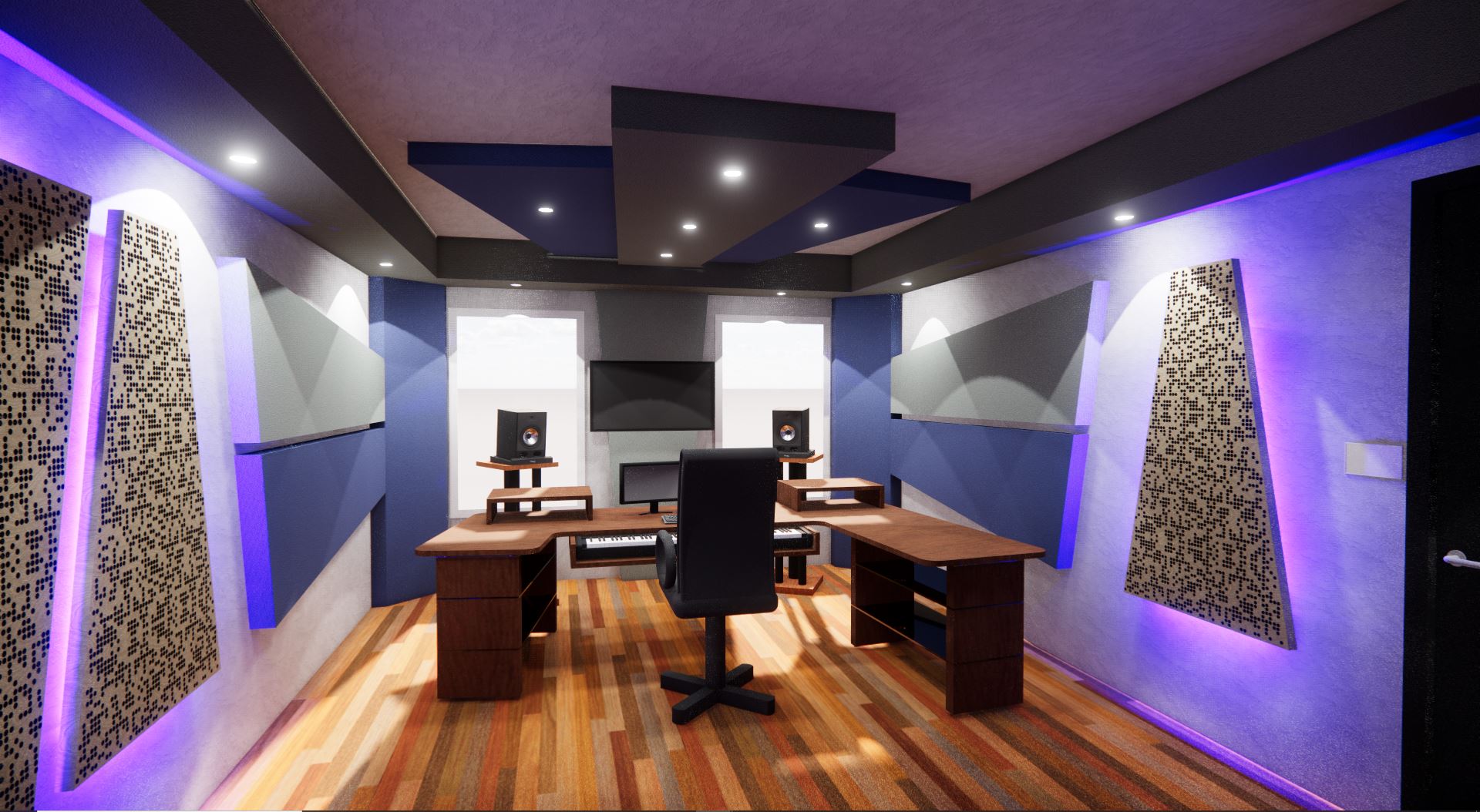 3D Renderings in Acoustical Consulting
September 8, 2020
As acoustical consultants specializing in architectural acoustics, there are two aspects of room design that we typically pay attention to: sound isolation and interior sound quality.
Sound Isolation – Sound isolation concerns keeping unwanted sounds out of a particular room and/or preventing sound being made inside of a room from disturbing people outside of the space. This is useful in buildings with multiple rooms, spaces that are particularly noisy (think recording studios, industrial facilities, theaters, etc.), and for buildings around noisy environments such as heavy traffic or trains.
Interior Sound Quality – Interior sound quality encompasses how the room itself reacts to sound being produced. Sound quality in a room will dictate how well speech and music are heard and understood. A room with interior acoustical issues may suffer from poor speech intelligibility, be inefficient for mixing/editing music, or sound lifeless and dull for performances.
There are various metrics used to quantify how well a room is performing with regards to sound isolation and sound quality, but unfortunately, many of these metrics are difficult to truly understand by merely viewing a graph and some testing data. For this reason, over the last couple years, Haverstick Designs has published some tools on our website to help our clients understand a few of these metrics.
Sound Isolation Simulator
Key Terms
Transmission Loss (TL): The loss of sound as it passes through a barrier. TL represents the loss of decibels (dB) through a partition and is frequency dependent. The higher a TL rating is for a certain frequency, the more isolation that will be accomplished at that frequency.
Sound Transmission Class (STC): A single number rating used to assess how well a partition blocks airborne sound. TL values are plotted on a graph with standardized STC curves to determine the STC rating. The higher the STC, the more isolation achieved by the wall. There are limitations with STC since it is not frequency dependent and can be misleading as a result. Some partitions may have identical STC ratings, but perform drastically different across the frequency spectrum.
In 2018, Haverstick Designs released the first in our line of acoustical simulators: the Sound Isolation Simulator. This tool in the Services section of the Haverstick Designs website models ten different wall structures, providing sound samples comparing their effectiveness at blocking sound. These ten wall structures span from STC ratings of 33 (very low) up to 69 (very high). Having such a wide array of wall structures shown can be very helpful for helping set client expectations. Since sound isolation can be very subjective, one can listen to these sound samples to determine how much is enough for their given application.
Below is a screenshot of one of the wall structure simulations. Aside from the STC rating and audio file, we also show the wall thickness and the (estimated) cost per square foot of materials used. On the left side of the screen is a floating comparison tool that allows you to quickly click between the various sound samples to compare the walls. Click HERE to explore the full Sound Isolation Simulator page!

Reverb Time Simulator

Key Terms
Reverberation Time (RT60): The time it takes for sound to decay by 60 decibels (dB) in a given space. Simply put, it's the amount of time it takes for reflections to stop persisting in a space.
Developed throughout 2019, our Reverb Time Simulator has proven to be a very useful tool to our clients. RT60 is a key metric in any large room, and in many untreated rooms, RT60 can often be two or even three times higher than the ideal value. While this is clearly problematic, it can often be difficult for clients to imagine the improvements that they could realize by reducing the RT in their room. For example, in the same room, a 3 second RT and a 1 second RT will be noticed as a "night-and-day" difference. With the RT Simulator, clients can now hear the difference acoustical treatment will make in their room before investing in the solution.
A very important yet often-overlooked aspect of reverberation time is the fact that it is frequency dependent. This means that RT cannot only be summarized by one number alone. Rather, each frequency will have its own RT, giving the room's overall reverb its own unique tone and color. For example, if a room has a significantly higher RT in low frequencies versus high frequencies, this room can sound "boomy" or "muddy." Contrarily, if a room has excessive high frequencies, it can sound "tinny" or "hissy". By using delay rate equalization, we are able to control the RT across the frequency spectrum on our simulations.
Below is an example of one of the rooms modeled in our Reverb Time Simulator. Click HERE to explore the simulator for yourself. As you can see, we show various features of the room. We show basic room parameters like volume and major surface materials. We also show what type of treatment was used, as well as professional partners we worked with on the project like A/V Integrators, acoustical treatment manufacturers, or architects. For the audio samples, we show three different sounds: speech, band music, and choral music. These three sounds show different applications for the rooms, as different room applications will have different acoustical requirements. Additionally, if you click on the RT Comparison button, you can see the before and after RT graphs of the room.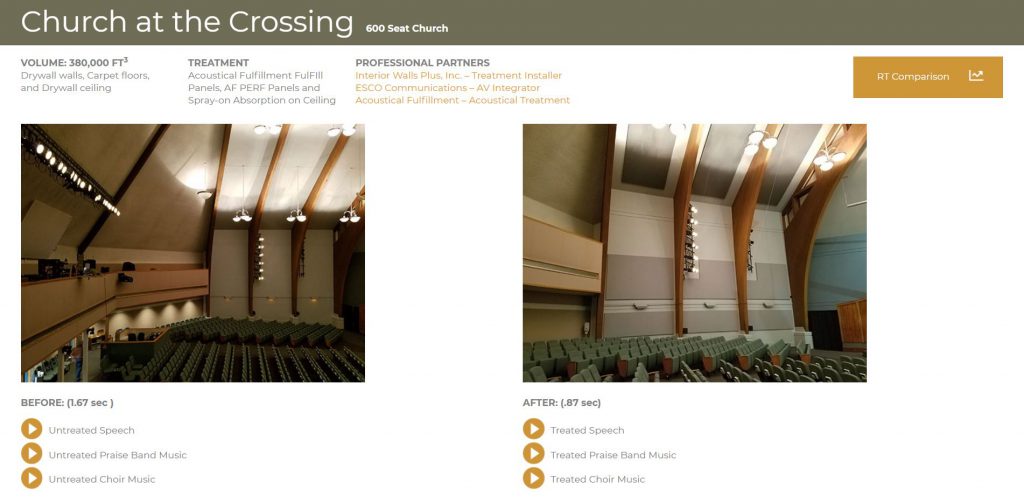 Summary

At Haverstick Designs, we pride ourselves in giving each of our clients a tailor-made, unique design that addresses their specific needs and acoustical goals. If you peruse our Portfolio section on our website, you will notice that no two rooms we have designed look the same. We believe that the rooms we design should reflect the uniqueness of the clients themselves. An important necessity in creating these unique designs is finding out a client's goals and desires for the space. Having these simulators available to our clients allows them to set expectations, and in doing so, helps them to have clearer-set goals and desires as the project moves forward. If you have any questions regarding these simulators or are interested in having a unique simulation for your space, feel free to contact us!
Written By: Oscar Otero