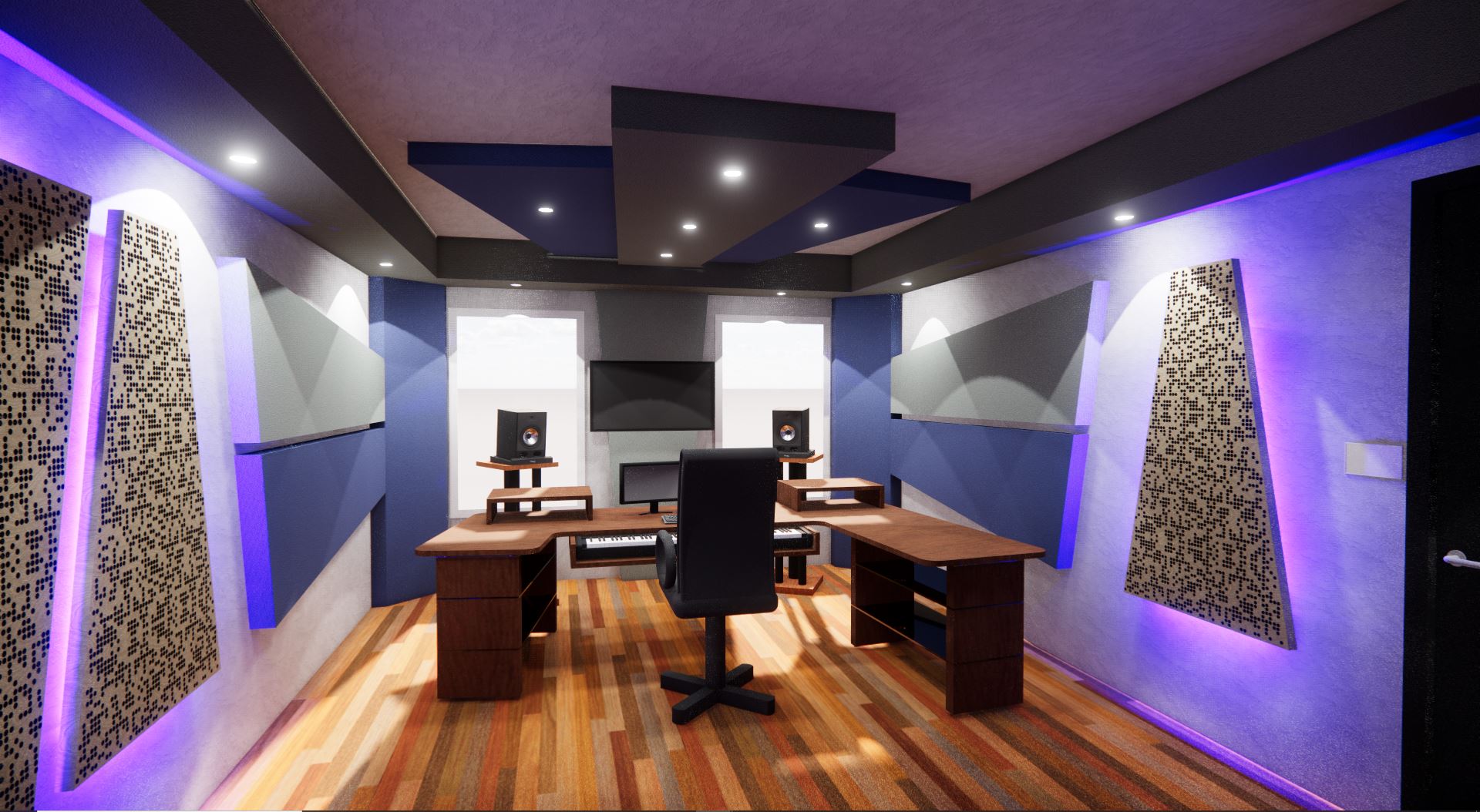 3D Renderings in Acoustical Consulting
September 8, 2020
Mid South Audio Case Study
June 28, 2022
Since its inception nearly 10 years ago,
Dolby Atmos
has slowly been on the rise. Initially designed for more complex commercial theater systems, it grew into other markets like home theater, with companies like
Sonos (Sonos Arc)
,
JBL
,
Sony
, and
Klipsch
designing new Atmos enabled soundbars and up-firing speaker systems. The most recent development has been with streaming companies like TIDAL and Apple Music adopting the format. Apple has engineered "
spatial audio
" into their Airpods (Airpods Pro and Airpods Max) and other devices. Since then, there has been a significant surge in demand for Atmos mix rooms. It is certainly possible that the music industry is on the cusp of an ideological sea change.
The fundamental difference between a Dolby Atmos system and a standard 7.1 or 9.1 channel system is the added height channels. Most professional Atmos systems will have four ceiling speakers to add a third dimension to the listening field allowing for further immersion with the use of "Sound Objects." It also uses a separate computer system to render the playback channels to be consistent with whatever system they are playing back on. This is key because every surround system is truly unique due to the greater quantity of speakers and the unique constraints that come with each room that they're installed in. There are a lot of factors that make Atmos rooms difficult to design and treat. Let's take a deeper look at some of them.
While the technology certainly allows for some liberty and dissimilarity between systems, a system can't be set up randomly in just any room, configured on the rendering computer, and be expected to sound great. Dolby has guidelines laid out in their "Dolby Atmos Home Entertainment Studio Technical Guidelines" document as well as in their "
Dolby Atmos Music Studio Best Practices
" document. These documents don't lay out any specific acoustical criteria, but they outline the basic requirements for room size and speaker positioning. As with any listening environment, a small room is not the ideal choice and the minimum room size they recommend is approximately 11.5' L x 10' W x 8' H. Fitting the standard 11 speakers and a subwoofer into such a small room alongside treatment can be a logistical nightmare, particularly with obstructions like screens, doors, windows, consoles, shelves, etc.
The recommended setup is one where all speakers are all equidistant from the listener. This eliminates any need for time/phase alignment between speakers and generally has better results. For a music room, it might be tempting to sit in the middle of the room and set up speakers to be equidistant from the center point. This can be problematic because the center of a room typically suffers from the most erratic frequency response compared to other locations. If creating an equidistant layout, it would be best for the listening position to be skewed from the middle of the room. Not all rooms can accommodate this kind of setup, so an orthogonal layout can be used instead where speakers are placed further away and adjusted with precise delays to be in phase at the listening position.
It should be noted here that each speaker has headroom requirements of 10dB above the nominal listening level (generally 85dB). So, any speaker in the room should be able to output a level of approximately 95dB at the listening position. The further away the speaker is located from the listening position, the more powerful it has to be to keep up with the system. Proper speaker selection and placement is thus critical to creating a cohesive Atmos system.
The greatest elephant in any small room is the bass response. Selecting a subwoofer and placing it correctly is rarely a straightforward process and often has to be done onsite experimentally after most of the room is complete. It could end up being anywhere from very close to the listener to against a far wall, so it has to have enough headroom for any given distance.
Perhaps the most crucial part in creating a critical listening room is creating a sweet spot free from any "coloration". Early reflections that bounce off of hard surfaces and hit the ear will cause equalization shifts in the perceived signal due to their complex phase interactions. Creating a reflection free zone can be enough of a challenge in stereo systems, but when you add another nine speakers firing in nine more directions, the number of reflections whizzing around the ears could be detrimental to a mix of any sort.
Most treatment schemes are focused on absorbing and redirecting early reflections in order to flatten the frequency response at the listening position without completely eliminating the ambience of the room. Back wall diffusion is a common solution in stereo environments as it can liven up the room and widen the image to a comfortable degree. Side wall and ceiling diffusion are much less common as they can alter the sonic image and have a much less predictable influence on the frequency response as they are generally much closer to the listener. With surround rooms, once the first reflection points have been treated it can be difficult to find space to apply diffusive treatment. This is an application where ceiling diffusion is more common as it can help widen the sweet spot at the listening position. The addition of height channels could complicate such a solution, but so long as the speakers are directional, as practically all are, they shouldn't prove to be problematic. One might opt for a carpeted floor here in order to remove floor reflections from the equation, but the floor isn't the most critical area to treat. The human brain has become very accustomed to having floor reflections present. Carpet will absorb high frequency energy, but does very little for low/mid frequencies, thus creating an imbalance. A hardwood floor Is preferred and area rugs can be added to taste.
The other important part of a treatment plan is adding bass trapping to the room. This is essential to create a more consistent frequency response in the low frequency range. Bass traps are usually placed in the vertical and horizontal corners of the room or strategically on the walls/ceiling at various points. While it might not seem like much of an issue, finding adequate space for such a high quantity of speakers in a properly treated room, whilst avoiding having a listening position in the middle of the room takes quite a bit of experimentation and know-how.
These are only some of the issues we're faced with when designing Dolby Atmos rooms. Every individual project has its own needs too. Maybe the space is multi-use and needs to be set up for stereo production as well. Maybe the space is for video post-production and the listener needs to be able to get some distance from a large projection screen on the front wall. Perhaps the space needs to be a little livelier to cut down on listening fatigue if it's going to be used for long stretches of time. The design criteria are practically limitless. Here are the key things to keep in mind when planning out your space:
– Pick the right room (size/shape/surface materials)
– Pick the right listening position (avoid the exact center if possible)
– Pick the right speakers (enough headroom and good frequency response)
– Place the speakers in accordance with Dolby's recommendations
– Experiment with subwoofer placement
– Properly phase align speakers if necessary
– Add acoustical treatment (consult with professionals to determine exact needs)
If you need help with speaker and treatment layout plans for your next Dolby Atmos project, Haverstick Designs has experience designing Atmos rooms for clients such as Studio DMI and Eventide Audio, among others. Contact us to discuss your project and see how we could assist!
Written By: Alex Petty